Single-Family Homes Update

March sales of all single-family homes in Houston totaled 4,832, up 10.8 percent from March 2009. The increase ended three consecutive monthly declines in sales. Broken out by segment, sales of single-family homes priced between $250,000 and $500,000 rose 30.6 percent in March while sales of luxury homes—those priced from $500,000 to the millions—soared 49.5 percent. Homes priced between $80,000 and $150,000 were up 6.5 percent while those in the $150,000 to $250,000 range rose 11.8 percent. By contrast, sales of homes in the below-$80,000 segment were off 8.4 percent.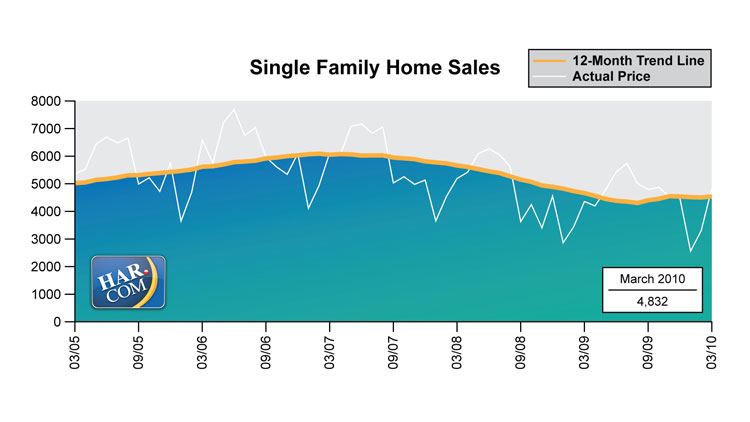 Heightened sales activity in the higher end of the housing market drove pricing up again in March. At $154,250, the median sales price for single-family homes rose for the 11th consecutive month, up 6.4 percent from March 2009. The national single-family median price reported by NAR is $164,300, illustrating the continued higher value and lower cost of living that consumers enjoy in the Houston market. The average price of single-family homes in March was $212,403, an increase of 10.2 percent from one year earlier. That represents the sixth straight monthly jump in the average price. Both median and average pricing reached the highest levels ever recorded for a March in Houston.

HAR also breaks out the sales performance of existing single-family homes throughout the Houston market. In March 2010, existing home sales totaled 4,057, a 14.4 percent increase from March 2009. The median sales price rose 9.4 percent to $144,900 compared to last year. The average sales price of $198,271 increased 12.2 percent from its March 2009 level.
Townhouse/Condominium Update

The number of townhouses and condominiums that sold in March jumped 30.4 percent compared to one year earlier. In the greater Houston area, 463 units were sold last month versus 355 properties in March 2009.
The median price of a townhouse/condominium slid 8.9 percent year-over-year to $123,000. The average price was flat at $160,886 from March 2009 to March 2010.

Lease Property Update

Demand for single-family home rentals rose 15.3 percent in March compared to a year earlier. Year-over-year townhouse/condominium rentals increased 13.9 percent.
Houston Real Estate Milestones in March
Single-family home sales rose 10.8 percent;
Total property sales increased 14.5 percent;
The average price of a single-family home appreciated for a sixth straight month by 10.2 percent to $212,403 — the highest pricing level for a March in Houston;
The median price of a single-family home rose for the 11th consecutive month, by 6.4 percent, to $154,250 — the highest dollar figure for a March in Houston;
6.7 months inventory of single-family homes compares favorably to the national average of 8.6 months;
Townhouse/condominium sales increased 30.4 percent;
Total dollar volume climbed 24.2 percent, reaching $1.2 billion.