MLS Report for January 2012
THE NEW YEAR BEGINS ON A POSITIVE NOTE FOR THE HOUSTON REAL ESTATE MARKET
January marks the eighth consecutive month of increased home sales
HOUSTON – (February 21, 2012) — The Houston housing market held to positive territory as 2012 began, with January marking the eighth consecutive month of increased home sales. The year also opened with a continued decline in active property listings and growth in pending sales—a combination that signals a healthy market with a balanced supply of housing inventory, and that puts Houston on enviable footing compared to many other markets around the U.S. that are slowly recovering from the housing downturn.
January sales of single-family homes climbed 9.2 percent versus one year earlier, according to the latest monthly data prepared by the Houston Association of REALTORS® (HAR). All segments of the housing market grew except the luxury segment—those homes priced from $500,000 and above—whose decline flattened the overall average price.
"The January report shows continued strength in the Houston housing market that we began seeing in the latter part of 2011, and it gives us cause for optimism as we look ahead to the typically active spring and summer buying months," said Wayne A. Stroman, HAR chairman and CEO of Stroman Realty. "We have also seen more jobs being filled locally and you generally don't experience a strong real estate market without healthy employment."
January's single-family home median price—the figure at which half of the homes sold for more and half sold for less—rose 0.9 percent year-over-year to $139,900. The average price of $194,765 was statistically unchanged from January 2011.
Foreclosure property sales reported in the Multiple Listing Service (MLS) increased 22.0 percent year-over-year in January. Foreclosures comprised 27.8 percent of all property sales, which is higher than the 2011 average of 21.0 percent. The median price of foreclosures in January was flat at $82,550.
January sales of all property types in Houston totaled 3,632, up 4.8 percent compared to January 2011. Total dollar volume for properties sold during the month rose 5.9 percent to $683 million versus $645 million one year earlier.
January Monthly Market Comparison
The month of January brought Houston's overall housing market positive results when all sales categories are compared to January 2011. Total property sales and total dollar volume rose on a year-over-year basis. The median price rose while the average price was flat.
Month-end pending sales for January totaled 3,164. That is up 6.0 percent from last year and suggests another positive month of sales when the February figures are tallied. The number of available properties, or active listings, at the end of January declined 15.1 percent from January 2011 to 42,067. The inventory of single-family homes dropped to its lowest level since December 2009—5.7 months, compared to 7.2 months one year earlier. That means it would take 5.7 months to sell all the single-family homes on the market based on sales activity over the past year. The figure is significantly better than the national inventory of single-family homes of 7.2 months reported by the National Association of REALTORS® (NAR). These indicators all continue to reflect a balanced real estate marketplace for Houston.
| | | | |
| --- | --- | --- | --- |
| CATEGORIES | JANUARY 2011 | JANUARY 2012 | PERCENT CHANGE |
| Total property sales | 3,467 | 3,632 | 4.8% |
| Total dollar volume | $645,477,929 | $683,494,880 | 5.9% |
| Total active listings | 49,523 | 42,067 | -15.1% |
| Total pending sales | 2,984 | 3,164 | 6.0% |
| Single-family home sales | 2,792 | 3,049 | 9.2% |
| Single-family average sales price | $195,295 | $194,765 | -0.3% |
| Single-family median sales price | $138,700 | $139,900 | 0.9% |
| Months inventory* | 7.2 | 5.7 | -21.1% |
* Months inventory estimates the number of months it will take to deplete current active inventory based on the prior 12 months sales activity. This figure is representative of the single-family homes market.
Single-Family Homes Update
January sales of single-family homes in Houston totaled 3,049, up 9.2 percent from January 2011. This marks the eighth consecutive monthly increase.
Broken out by segment, January sales of homes priced below $80,000 rose 6.4 percent; sales of homes in the $80,000-$150,000 range climbed 12.4 percent; sales of homes between $150,000 and $250,000 were up 17.6 percent; sales of homes ranging from $250,000-$500,000 advanced 4.8 percent; and sales of homes that make up the luxury market—priced from $500,000 and up—declined 2.1 percent.
At $194,765, the average price of single-family homes was statistically unchanged from last January, resulting from the lower volume of luxury home sales. At $139,900, the median sales price for single-family homes rose 0.9 percent year-over-year. The national single-family median price reported by NAR is $164,500, illustrating the continued higher value and lower cost of living available to consumers in Houston.
HAR also breaks out the sales performance of existing single-family homes throughout the Houston market. In January 2012, existing home sales totaled 2,594, an 8.1 percent increase from January 2011. The average sales price declined 1.4 percent from last year to $181,310 and the median sales price also declined 1.4 percent to $125,000.
Townhouse/Condominium Update
The number of townhouses and condominiums that sold in January fell 6.2 percent compared to one year earlier. In the greater Houston area, 271 units were sold last month versus 289 properties in January 2011.
The average price dipped 3.1 percent to $137,626 from January 2011 to January 2012. The median price of a townhouse/condominium declined 9.6 percent to $96,050.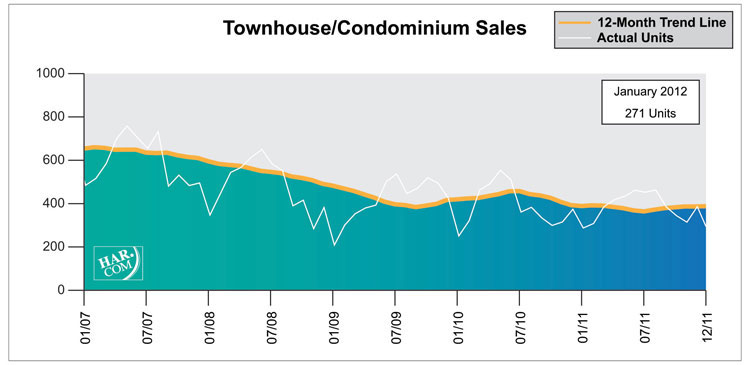 Lease Property Update
Single-family home rentals rose 15.3 percent compared to one year earlier and year-over-year townhouse/condominium rentals climbed 15.6 percent. This is consistent with increases in the leasing market recorded throughout 2011.
Houston Real Estate Milestones in January
Volume of single-family home sales rose for the eighth consecutive month;
Single-family home rentals rose 15.3 percent;
Townhouse/condominium rentals increased 15.6 percent;
5.7 months inventory of single-family homes is the lowest level since December 2009 and compares favorably to the national average of 7.2 months.
The computerized Multiple Listing Service of the Houston Association of REALTORS® includes residential properties and new homes listed by REALTORS® throughout Harris, Fort Bend and Montgomery counties, as well as parts of Brazoria, Galveston, Waller and Wharton counties. Residential home sales statistics as well as listing information for more than 50,000 properties may be found on the Internet at https://www.har.com.
The information published and disseminated to the HAR Multiple Listing Services is communicated verbatim, without change by Multiple Listing Services, as filed by MLS participants.
The MLS does not verify the information provided and disclaims any responsibility for its accuracy. All data is preliminary and subject to change. Monthly sales figures reported since November 1998 includes a statistical estimation to account for late entries. Twelve-month totals may vary from actual end-of-year figures. (Single-family detached homes were broken out separately in monthly figures beginning February 1988.)
Founded in 1918, the Houston Association of REALTORS® (HAR) is a member organization of real estate professionals engaged in every aspect of the industry, including residential and commercial sales and leasing, appraisal, property management and counseling. It is the largest individual dues-paying membership trade association in Houston as well as the second largest local association/board of REALTORS® in the United States.