MLS Report for May 2013
THE HOUSTON REAL ESTATE MARKET CHARGES INTO RECORD SALES TERRITORY IN MAY
Home prices and sales volume reach historic highs; housing inventory shrinks further
HOUSTON — (June 18, 2013) — Just when you thought the pace of Houston home sales could move no faster nor home prices climb any higher, they do. May marked the 24th consecutive month—two straight years—of positive sales, and brought a continued flurry of home buying that accounted for the largest one-month sales volume of all time and record-high pricing. This buying frenzy caused a further shrinkage in the supply of homes on the market.
According to the latest monthly report prepared by the Houston Association of REALTORS® (HAR), home sales jumped 28.0 percent compared to last May, with contracts closing on 7,794 single-family homes. The last time the market approached that volume in a single month was in June 2006 when 7,688 transactions closed. Housing inventory, which reached a 13-year low of 3.6 months during the first two months of the year, dipping to 3.5 months in March and 3.4 months in April, stood at 3.3 months at the end of May.
The median price of a single-family home—the figure at which half the homes sold for more and half for less—rose 11.9 percent to $188,000. The average price increased 9.0 percent year-over-year to $256,790. Both represent the highest prices of all time.
All housing segments experienced gains except for those priced under $80,000. Homes selling between $150,000 and $500,000 registered the greatest increase in sales volume.

"The Houston real estate market has held to positive territory for two years running and you'd be hard-pressed to find a market anywhere in the U.S. as vibrant as ours," said HAR Chairman Danny Frank with Prudential Anderson Properties. "We continue to see multiple offers on homes, in many cases before the ink has even dried on the listing agreements. There are also many cash offers. We need to carefully watch pricing, however. A disproportionate appreciation in home prices could suggest a bubble, and Houston is very fortunate to have avoided that so far."
Houston's relentless surge in home sales continues to be fueled by further job creation, with the Texas Workforce Commission reporting the addition of more than 111,000 jobs over the past 12 months. Continued low interest rates have also made conditions more appealing for home buying, although rates have begun creeping up in recent weeks.
Foreclosure property sales reported in the HAR Multiple Listing Service (MLS) declined 33.7 percent compared to May 2012. Foreclosures currently make up 9.4 percent of all property sales, down from 10.4 percent one month earlier and 19.7 percent at the beginning of the year. The median price of foreclosures rose 3.8 percent to $85,000.

May sales of all property types in Houston totaled 9,245, a 28.0 percent increase over the same month last year. That marked the largest one-month sales volume since June 2006. Total dollar volume for properties sold jumped 38.1 percent to $2.2 billion versus $1.6 billion a year earlier.
May Monthly Market Comparison
May delivered more positive results to the Houston's real estate market when comparing all sales categories to May 2012. On a year-over-year basis, total property sales, total dollar volume and average and median pricing were all on the rise.
Month-end pending sales totaled 5,115, a 14.3 percent gain over last year and a strong indicator of another sales increase when the June figures are tallied. Active listings, or the number of available properties, at the end of May declined 23.8 percent from May 2012 to 32,214.
After holding at 3.6 months in January and February and slipping slightly in March to 3.5 months, housing inventory declined from April's 3.4-month reading to 3.3 months in May. Those levels are comparable to figures last seen here in the late 1990s. For perspective, the inventory of single-family homes across the United States stands at 5.2 months, according to the latest report from the National Association of REALTORS® (NAR).

| | | | |
| --- | --- | --- | --- |
| CATEGORIES | MAY 2012 | MAY 2013 | CHANGE |
| Total property sales | 7,220 | 9,245 | 28.0% |
| Total dollar volume | $1,629,544,913 | $2,249,874,127 | 38.1% |
| Total active listings | 42,280 | 32,214 | -23.8% |
| Total pending sales | 4,476 | 5,115 | 14.3% |
| Single-family home sales | 6,088 | 7,794 | 28.0% |
| Single-family average sales price | $235,509 | $256,790 | 9.0% |
| Single-family median sales price | $168,000 | $180,000 | 11.9% |
| Months inventory* | 5.5 | 3.3 | -40.6% |
* Months inventory estimates the number of months it will take to deplete current active inventory based on the prior 12 months sales activity. This figure is representative of the single-family homes market.
Single-Family Homes Update
May sales of single-family homes in Houston totaled 7,794, up 28.0 percent from May 2012. That marks the 24th consecutive monthly increase as well as the largest one-month sales volume ever recorded.

Home prices climbed to record highs during the month. The single-family median price rose 11.9 percent from last year to $188,000 and the average price climbed 9.0 percent year-over-year to $256,790.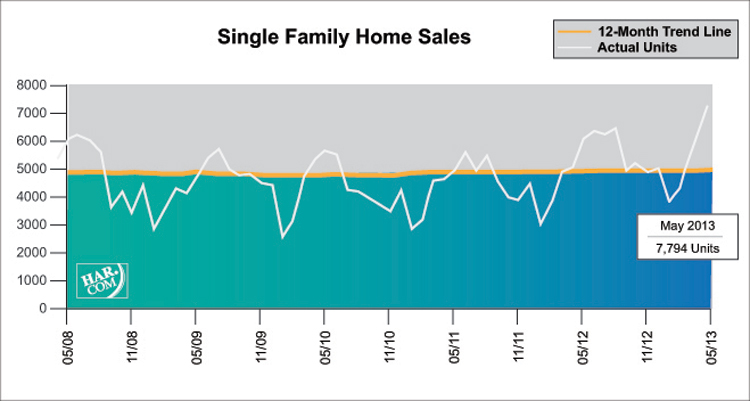 Broken out by housing segment, May sales performed as follows:
$1 - $79,999: decreased 24.0 percent
$80,000 - $149,999: increased 16.5 percent
$150,000 - $249,999: increased 34.8 percent
$250,000 - $499,999: increased 60.6 percent
$500,000 - $1 million and above: increased 26.5 percent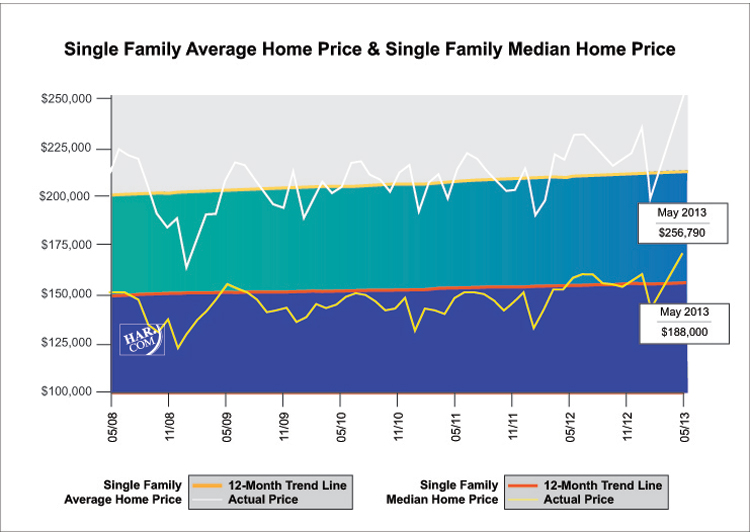 HAR also breaks out the sales performance of existing single-family homes throughout the Houston market. In May 2013, existing home sales totaled 6,642, a 29.9 percent leap from the same month last year. The average sales price rose 10.5 percent year-over-year to $246,607 while the median sales price jumped 11.7 percent to $174,320.
Townhouse/Condominium Update
May sales of townhouses and condominiums increased 15.8 percent from one year earlier. A total of 653 units sold last month compared to 564 properties in May 2012. The average price edged up 1.2 percent to $188,593 while the median price dipped 0.5 percent to $139,000. Months inventory was 3.4 months versus the 6.4 months level recorded in May 2012.
Lease Property Update
Houston's lease property market remained strong in May. Rentals of single-family homes increased 12.2 percent compared to May 2012 and year-over-year townhouse/condominium rentals rose 15.3 percent. At $1,651, the average rent for single-family lease homes reached the highest price since last August. The average rent for townhouses/condominiums climbed to its highest price ever at $1,426.
Houston Real Estate Milestones in May
Single-family home sales increased 28.0 percent year-over-year, accounting for the market's 24th consecutive monthly increase and the largest one-month sales volume ever;
Total property sales also rose 28.0 percent compared to one year earlier and accounted for the largest one-month sales volume since June 2006;
Total dollar volume jumped 38.1 percent, increasing from $1.6 billion to $2.2 billion on a year-over-year basis;
At $188,000, the single-family home median price reached an historic high for Houston;
At $256,790, the single-family home average price also reached the all-time highest level;
3.3 months inventory of single-family homes is the lowest level since the late 1990s and compares to the national average of 5.2 months;
Sales of townhouses/condominiums rose 15.8 percent year-over-year.
The computerized Multiple Listing Service of the Houston Association of REALTORS® includes residential properties and new homes listed by REALTORS® throughout Harris, Fort Bend and Montgomery counties, as well as parts of Brazoria, Galveston, Waller and Wharton counties. Residential home sales statistics as well as listing information for more than 50,000 properties may be found on the Internet at
https://www.har.com
.
The information published and disseminated to the HAR Multiple Listing Services is communicated verbatim, without change by Multiple Listing Services, as filed by MLS participants.
The MLS does not verify the information provided and disclaims any responsibility for its accuracy. All data is preliminary and subject to change. Monthly sales figures reported since November 1998 includes a statistical estimation to account for late entries. Twelve-month totals may vary from actual end-of-year figures. (Single-family detached homes were broken out separately in monthly figures beginning February 1988.) Founded in 1918, the
Houston Association of REALTORS®
(HAR) is a member organization of real estate professionals engaged in every aspect of the industry, including residential and commercial sales and leasing, appraisal, property management and counseling. It is the largest individual dues-paying membership trade association in Houston as well as the second largest local association/board of REALTORS® in the United States.